What's your business better at e-business or e-commerce? How well do you know the ins and outs of your company's strategy for e-commerce? And how might that be different than the e-business tactics you're planning to deploy? That's a lot of questions-and you wouldn't be the first small business owner to meet them all with a blank stare and a panicking brain.
If you don't understand the difference between e-business and e-commerce, now's your chance to learn. The more you recognize how your business runs in the electronic arena, the more you can turn your hone your instincts and feel for running an online business.
More than that, mastering the difference between e-business and e-commerce-as trivial as it might seem at first-is essential for continued, reliable growth in today's incredibly competitive online marketplace. What is e-commerce, you wonder? eCuras is here to help answer that!
What is E-Commerce?
When you write a letter and send that letter through the postal service, that's called mail. When you write a similar letter and, instead, send that message through an electronic delivery system, that's called email.
The same is essentially true of e-commerce. Purchasing an apple from your local grocery store is commerce. Purchasing that same apple via the internet is e-commerce. Essentially, e-commerce involves anything related to running an online store or marketplace. The basic concept is simple-but how your business engages in e-commerce can be incredibly complex.
There are a significant number of interactions that fall under the umbrella of e-commerce. These interactions may include:
Simple transactions with a customer. Your business sells an item to a consumer. (This would be an example of a standard business-to-customer e-commerce interaction.)
You sell, create or sell a product to another business, or vice versa. (This is business-to-business e-commerce.)
You, as a consumer, sell a product to a business. (And it's known as consumer-to-business e-commerce.)
A consumer selling a product to another consumer, often facilitated by a third-party website such as Etsy or eBay. (Consumer-to-consumer e-commerce.)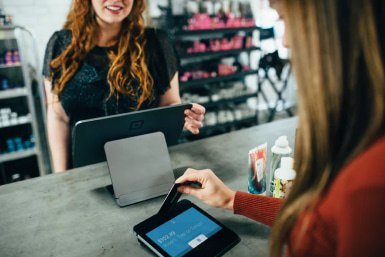 What Am I Thinking About When I'm Thinking About E-Commerce?
That's the big picture. What does the day-to-day management of e-commerce look like? In general, you'll be thinking about and setting strategies for how your online store interacts with your customers-whoever those customers may be.
E-commerce, therefore, may involve:
Point of sale strategies: how your online store is designed and developed. Every eCuras client, for example, is treated to a thoughtful and intentional strategy process that centers your website as a communications and sales tool, emphasizing effective branding and user experience. We build and host all of our clients' websites to optimize their e-commerce performance.
Promotional strategies: How do you promote your business online? You could use SEO and content marketing or email blasts and social media. Some small businesses use email blasts, while others rely heavily on pay-per-click campaigns. At eCuras, we craft human-centered promotional strategies to suit our clients' e-commerce strengths and demands uniquely.
Shipping and handling: How do you handle fulfillment in your online store? Is your website built to safeguard the personal information of all of your customers? Fulfillment can be a big part of your e-commerce business. Success here often depends on starting with a website that can handle the demands of your business.
Retention strategies: How you keep your customers around and maintain their satisfaction has become incredibly important, especially in such a competitive e-commerce marketplace.
It's not uncommon for many businesses to have a brick-and-mortar commerce presence as well as e-commerce infrastructure. That's why knowing the right e-commerce solutions for your business can help make your online store run smoothly and efficiently.
What is E-Business?
Not every rectangle is a square, but every square is a rectangle. It's useful to think of the relationship between e-commerce and e-business the same way. E-commerce deals with how your store works in an electronic world. E-business deals with how your entire business runs in an electronic world.
E-commerce, then, will be part of your e-business. But your e-business includes so much more. At its most simple, e-business covers every part of your business that uses the internet. Some small businesses run entirely online, and others don't. The degree to which your e-business is your business will vary from company to company.
What Does E-Business Look Like?
It's important to know just how much e-business vs. regular business you have, as that can help you determine the best strategies for success. E-business can cover a wide gamut of normal business operations, including:
Communication: Success for any business depends on good communication, and e-businesses are no different. Modern technology makes electronic communication incredibly easy. With Skype, Slack, or simple text messages, you can stay in touch with team members from across the globe. If you are running an e-business, it doesn't really matter whether your employees are in the next room or the next time zone; good communication ensures you work together as a team.
Human Resources: With such effective communication tools at your fingertips, your e-business could expand its talent pool in creative ways. You could post an ad to various online platforms around the country to find just the right sales team; or find a bright new candidate for your finance team from around the world. E-business HR means building your team based on talent, not on location.
Funding/Finance: Any business needs investment capital to get off the ground. Traditionally, you might have gotten your start by bringing a well-polished business plan to your local bank to meet with a loan officer. But e-business strategies might mean finding online loan options-some of which are as easy as filling out a quick form to apply for a business credit line. To a certain extent, e-businesses offer a certain amount of funding flexibility, allowing your small business to grow as your success demands.
Inventory management: Let's say you have a sale in your online store and you run out of apple pies. If your inventory management system is set up on the internet, it may analyze your sales and automatically order the inventory you need to make more apple pies.
Payroll and accounting: Many businesses have completely moved their payroll and accounting into the cloud, allowing for faster payments and processing.
Project Management: When your business is an e-business, you don't have to meet in a boardroom-you can conference with your team from anywhere in the world. Project management software makes this easier. With Asana or Basecamp, for example, you can manage your team and tasks directly from anywhere in the world. You'll have access to better candidates from across the globe because you won't be limited to one geographic area.
The truth is that there are as many variations on e-business as there are unique business ideas in the world. There's no one-size-fits-all solution, especially in this era of fully distributed online companies. E-business solutions for your enterprise may look strikingly different from anyone else's, but that's because a good e-business strategy will emphasize your company's unique strengths and needs to maximize success.
E-business can be expansive. And there are plenty of companies, large and small, that make no distinction between their business and e-business. That's because every aspect of those businesses takes advantage of online infrastructure-from the internet to intranets.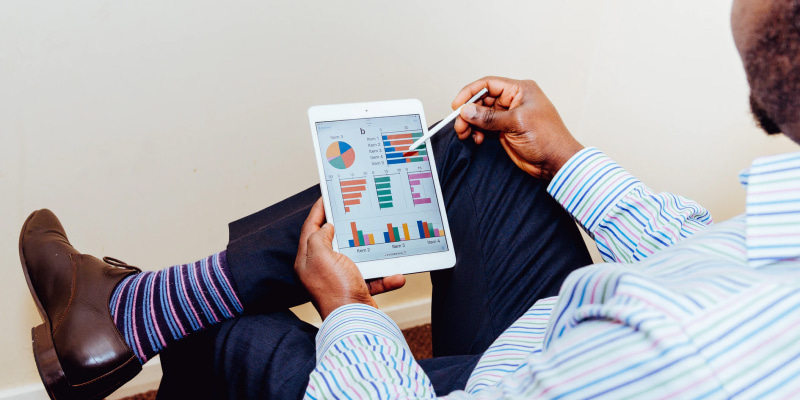 How Do I Take My E-Business to the Next Level?
Now that you're familiar with the difference between e-business and e-commerce, it's time to start thinking about leveraging your knowledge to boost your success. In other words, you want to take your e-business to the next level.
An e-business-first approach can help ensure your company is competitive in today's digital world. Some high-level e-business examples might look like these: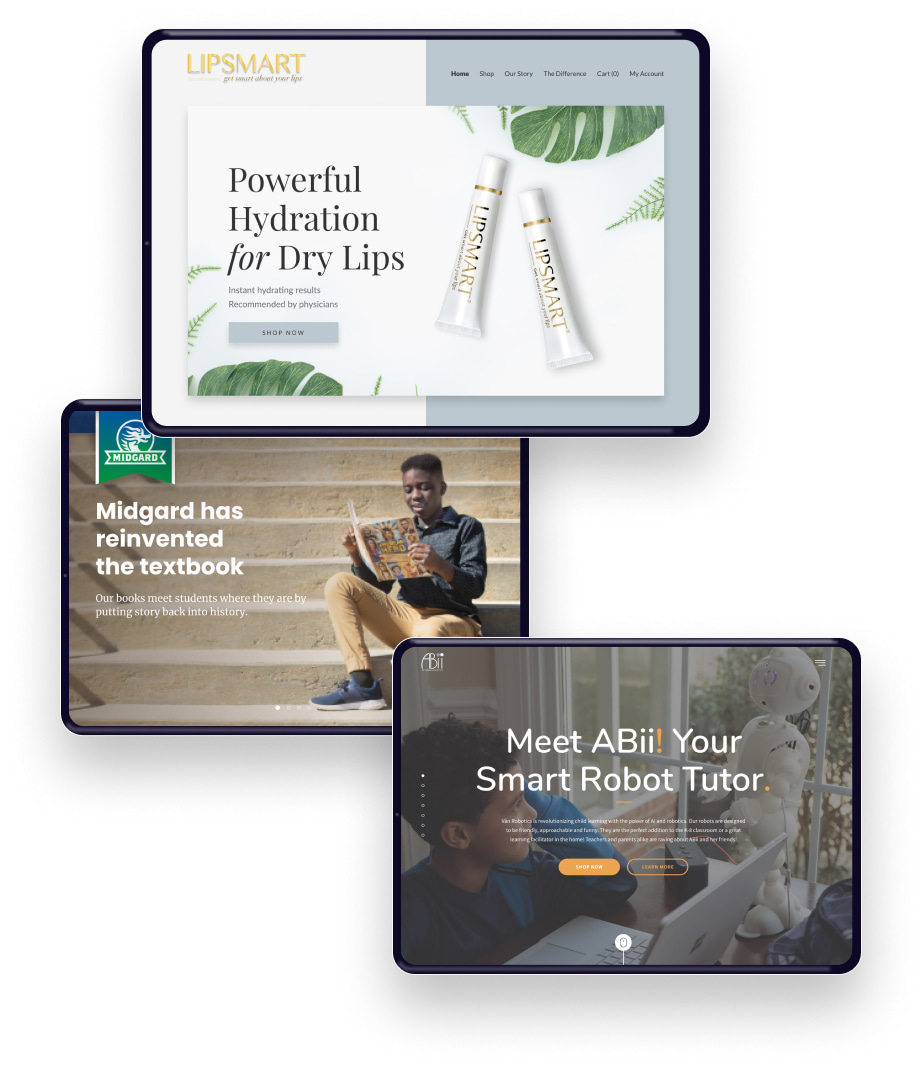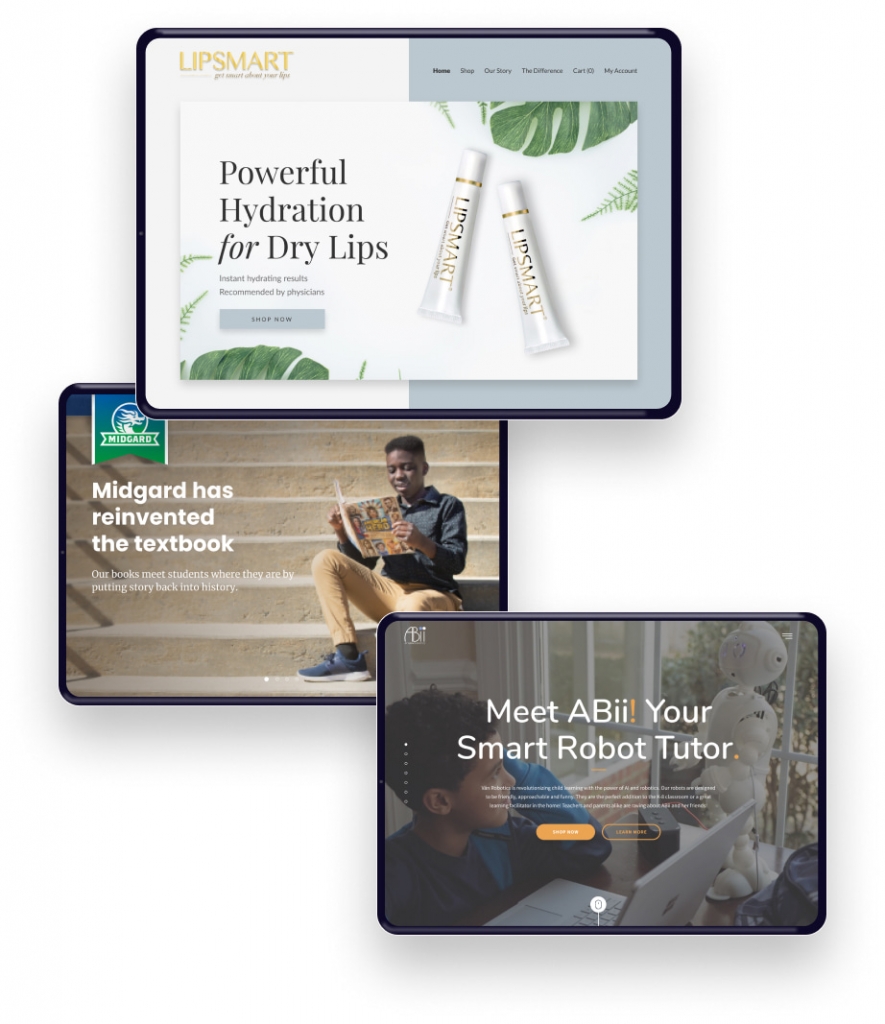 A World-Class Website
First, you'll need a world-class website. If your company will have any presence on the internet, your website will suddenly become your first impression for every one of your customers. You want to make sure that all of those customers are impressed.
At eCuras, we recognize that your website will be the foundation of your marketing strategy. For an e-business, especially, that means your website has to connect with your customers. That's why we spend time developing the story of your brand-a story your customers can fall in love with. It's that commitment to a human-centered model that helps our clients stand out.
And that's also why we make sure that your marketing reflects that brand story. We use search engine optimization to make sure your website is discoverable to the right people. Our clients understand that implementing SEO best practices for your e-business can take some time. But the results are longer-lived; a website that does SEO right won't have to worry about penalties down the road or artificially high rankings that drive non-converting traffic.
Once a user successfully finds your website, our web design and development Manhattan teams ensure that the overall experience is smooth and intuitive. Our design focuses on a user experience that subtly leads the user through the conversion process.
Your website is at the heart of all this marketing activity. So whether you need website design in NYC, or Bozeman, MT, you need a world-class approach to unleash the potential of your e-business.
An Easy E-commerce Experience
As part of that world-class website, you'll want to ensure that your customers enjoy a smooth online shopping experience. When you work with a company like eCuras, you'll be able to create a store that is easy to browse, easy to use, and easy to purchase from. This will keep your customers coming back for more, and you'll be able to leverage all of the marketing tools inherent in the online shopping experience to boost your sales.
Enhanced Integration
If you're running an e-business, it's usually a good idea to take advantage of the cloud. The more you can integrate your business's various aspects; the more responsive and automated your company will become.
There's virtually no limit to what you can accomplish with enhanced integration, from automated payroll to inventory management and order fulfillment. The more you automate, the more time you can spend enacting your bigger-picture business strategies.
Sometimes that integration can help your business punch above its weight class, with many small businesses relying on sophisticated intranets and cloud services to perform enterprise-level tasks that might otherwise have been impossible.
Data Analytics
The more data you collect, the more informed your strategic business decisions will become. Every aspect of your e-business will generate data of some kind. When you analyze this data for sophisticated insights about your operation and your customers, your small business can make smarter tactical decisions.
E-Business vs E-Commerce
Hopefully, now you'll never ask about the difference between e-commerce and e-business again! Understanding e-business vs. e-commerce is essential for success in today's business climate. There are few businesses-big or small-that can survive without a robust online presence. Your success as a small business depends on reaching your customers, where they are-and they are increasingly found only in online spaces.
In the days of Amazon and Walmart, your small business needs every advantage it can get. eCuras has helped small businesses take advantage of e-business and e-commerce best practices so you can better connect with your customers where they are and grow your business in the process.
And it all starts with your website. Contact eCuras today to get started!