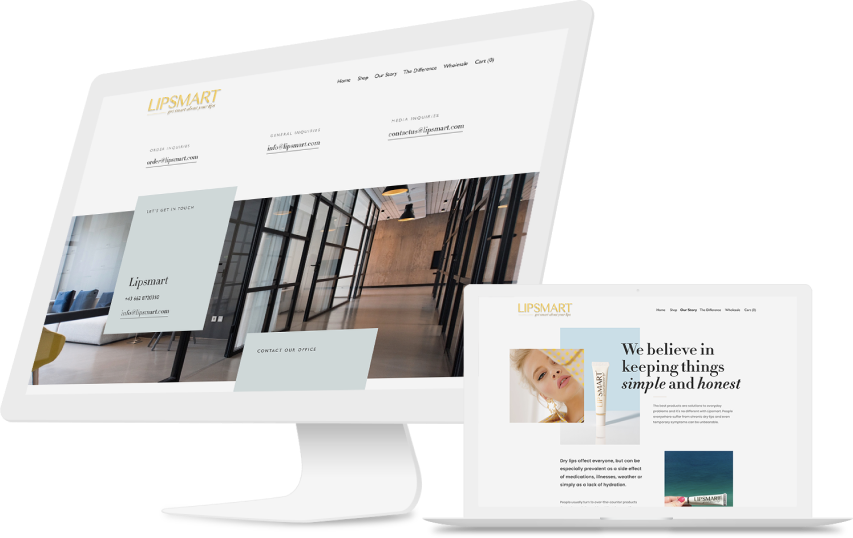 Long-Term Lip Solution
Lipsmart is the premier solution for chronic or everyday dry lips. It provides long-term healing of the lips where other products mask the symptoms, giving temporary relief but nothing long-lasting.
Lipsmart has built a name for itself in the health and beauty industry, which is no easy feat, so we wanted their website to reflect their products' ingenuity.
Modernity Meets Minimalism
The site has a clean, modern feel to it. The animations are light and minimalistic but add a sense of fluidity when browsing pages. A neutral-tone color palette set within a straight line framework and similar rectangles give the content on the site room to breathe. The open feel complements the subject matter: beauty and health products should make you feel lighter and brighter, just like the Lipsmart website does.
A Site That Sells
eCuras integrated a full online store using WooCommerce to provide a simple and streamlined way for customers to purchase products. Everything on the site is tailored to increase sales.
The CTAs are designed to teach the visitor the essential information and then invite them to buy. This structure is evident throughout the site and is a proven way eCuras gets our clients the sales they're looking for.
Built to Last
Lipsmart now has a basis where they can operate for the future. We've provided an online home for their brand where their audience can learn about their products and place orders, all with a few clicks.
Websites should not only jumpstart a business but be long-term tools for growth and conversion. eCuras builds sites that do both.
Watch the video