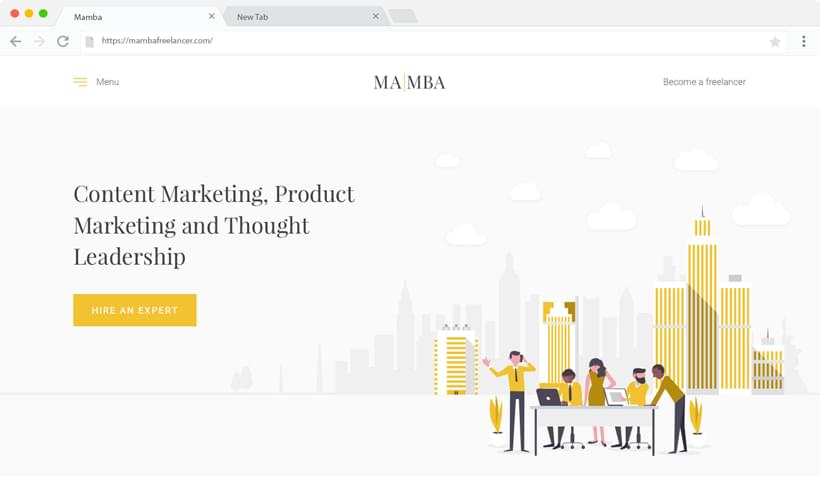 Build the Bridge
New businesses and competitors are being added to the market every day, and it can be hard to keep up with the ever-changing needs of the market. MAMBA is an online resource that connects businesses and freelancers.
It provides businesses with the type of talent they want to hire—motivated freelancers who specialize in all fields from social media and networking to content writing and design.
Smooth and Polished
Our development with MAMBA was a ground-up process. The site focuses on a smooth, streamlined feel when you scroll through it. It's aesthetically-pleasing, it's functional, it's enticing to its users.
Our team and custom-tailored did all animations and graphics for MAMBA and the style of visuals they were looking for.
Writing the HTML from scratch and then developing the site into WordPress let us customize what we wanted and also gave MAMBA the ability to make changes through the WordPress CMS once the site was finished.
The Perfect Ratio
The genius of MAMBA's site is the intersection of all the important material without it having a cluttered feel. They offer a multitude of services, and we wanted to find a way to display these to the user without overwhelming them.
By intuitively utilizing site real estate, shaping the links and service pathways to mesh seamlessly, we created a site that grabs your attention, giving you all the important talking points without suffocating you.
Set the New Bar
The website we developed for MAMBA can now show their potential clients they're serious about their work.
By setting the example, we add validity to their abilities. Let's face it; people only give a website a few seconds to really "wow" them.
This gives us a small window to capture their attention and convey our mission. This was our goal and ultimately the realization of MAMBA's website.