CONDUCIVE BY ADMARKETPLACE
Advertisement motion video

Watch the video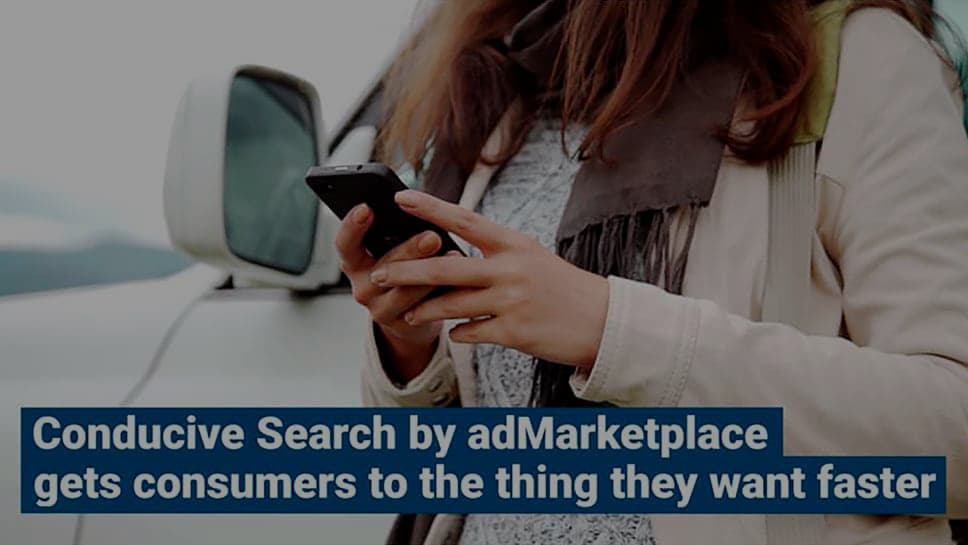 adMarketplace's Game-Changing Innovation
adMarketplace, named one of New York's fastest-growing companies by Crain's, is a forward-thinking, future-oriented firm. The company's tech-savvy approach offers performance traffic to top publishers, content marketers, and agencies. Conducive, adMarketplace's proprietary publisher integration, drives revenue in native search with a Paid Suggest feature that directs users directly to top reliable advertisers.
Brand Messaging That Works
We worked with adMarketplace to ensure that our video production and original written content matched their brand voice and personality. This client, for example, stays ahead of technology trends and prides itself on providing simple, sleek solutions to complex, unwieldy tech problems. We knew that AdMarketplace's Conducive paid search offers an intuitive user experience and streamlined design, both of which we showcased with our animation and content.
We get to know all of our clients' missions on a deeper level. This level of communication and commitment allows us to integrate the unique aspects of their brand, platform, and voice into every aspect of our custom advertising campaigns.
Our Process
The best way for your potential customers to understand the "wow" factor of your brand's impact is to see it in real-time. In adMarketplace's Conducive Paid Suggest feature, customers can find exactly what they need in organic search results that pop up as they type. To show what a game-changer this is for users and publishers alike, we begin our video animation by contrasting an overwhelming, length legacy search results page with what's possible with adMarketplace. The animation is paired with content that fleshes out that initial "wow" factor, adding details about Conducive that drive it home as a groundbreaking solution to a common problem.
Scalable Content Creation
We work with all of our clients at the level they need, offering everything from ground-up content development and creation to creative collaborations and partnerships that give brands more autonomy and control. In this case, we created relevant content based on adMarketplace's mission to find the "shortest possible distance between a person and the thing they want" with native search innovations.
Our work for adMarketplace showcases how even animation templates can be customized to look original. No matter your budget or desired level of collaboration, we have the tools to optimize your brand message and present it in the best way possible.