How much is a domain really worth?
It's well-known that not all domains are valued equally. While some domains are only worth their registration cost, others can sell for six and even seven figures. Domains are similar to 'undeveloped real-estate land,' and the potential can be enormous to the right developer.
There are many factors which can affect the value of a domain name which include:
Spelling & Other Options
If the words in a domain are easy to misspell, it's likely to have a lower value (this includes numbers within a word). It may be worth it to look into whether its typo options are available and potentially buying those as well to redirect to your main domain.
Length & Word Count
The amount of characters in the domain name plays a large role in its value, i.e., shorter domains usually sell for more. Exact-match domains are usually valued more than short, brandable domains because of their SEO benefit.
Comparable Sales
Historic sales of domains that share similar characteristics to the domain in question are important when determining its value.
You can browse through historic sales records at NameBio, and DnJournal.
History
The previous history of a domain can affect its value, and factors like domain age, registration history, content, backlinks, and any previous violations can also affect the price. If a domain is clean and has been registered for a few years, it might be worth more because Google values older domains. On the other hand, if it's been penalized by Google previously, this can negatively affect its price.
Memorable and Pronounceable
These two factors are pretty self-explanatory.

Generic Vs Keyword Rich/Exact-Match
Generic names are usually short, meaningless, and forgettable, and generally, people search for them less. Keyword-rich domains may have industry-related search terms or phrases embedded in them that give them a higher organic SEO ranking. Sometimes, it's worth having the best of both worlds, owning a domain with a generic keyword and another industry-specific domain, and redirecting both to your site to utilize your full traffic potential.
Extension
The .com extension is the most popular and desirable for all domains because it's the default and, likewise, the most commonly used extension to this day. Some people also feel that .com shows more authority than perhaps a .net or .me address. Contrary to the belief that search engines favor the .com extension, studies have shown that newer extensions do, in fact, provide the same SEO benefits as .com.
You can read more about studies on this subject here.
Search Metrics
SEO-optimized exact-match domains can capture 80% of the organic search traffic that goes through search engines. This means many customers searching for a particular term will click on the organic results rather than the paid adverts. By optimizing your domain for a competitive keyword, you could save money others spend on PPC and get a much higher traffic percentage.
So the formula is (Cost per Click * Monthly Exact Match Search Volume*Competition) * 0.8 * 24 (over the term of 24 months). More info about this equation.
Search Terms
If you have a keyword-specific domain, then it's worth noting that the authority created on one page of your site will transfer to other pages, increasing the rankings for those other terms. For example, if your home page is optimized for the search term 'bicycles,' then it's wise to optimize some internal pages for long-tail keywords such as 'mountain bikes.'
Search metrics could be obtained from: "Google Adwords" (under tools->keyword planner).
Commercial Intent
Not all keywords carry commercial value, however. For example, including the word 'free' anywhere in the term will de-commercialize a domain.
Competition Analysis
Basic research related to the term/phrase/industry in question is required.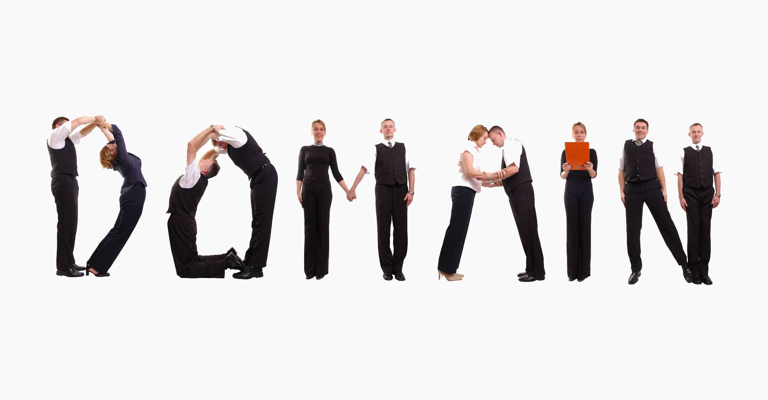 Parking Traffic and Revenue
If a domain is parked (meaning it redirects to a landing page with automatically generated ads), then the clicks' revenue is shared between the owner and the parking company.
Parked domains won't be able to generate nearly as much advertising revenue as fully developed domains.
Search engines won't list parked domains in their results, plus users identify these ads as sponsored content that isn't generally related to their search term.
Presence of Advertisers for the Term/Phrase
The amount of active advertisers for a given search term has a direct effect on the value of the domain related to that term.
Prospects Presence
If you plan on flipping a domain, then create a list of prospects before acquiring it. This will provide you with some basic information related to the quality and quantity of the potential buyers.
Valuation Tools
Online valuation tools can help assess the value of a domain, but be aware, many of them aren't reliable. The only tools which should be given consideration are Estibot, Sedo, and GoDaddy. Sedo and GoDaddy will allow you to see the suggested price during the listing process, while Estibot requires a paid subscription (this is similar to other tools).
We hope that this list has helped you work out the value of your domain, or hopefully one you wish to purchase.